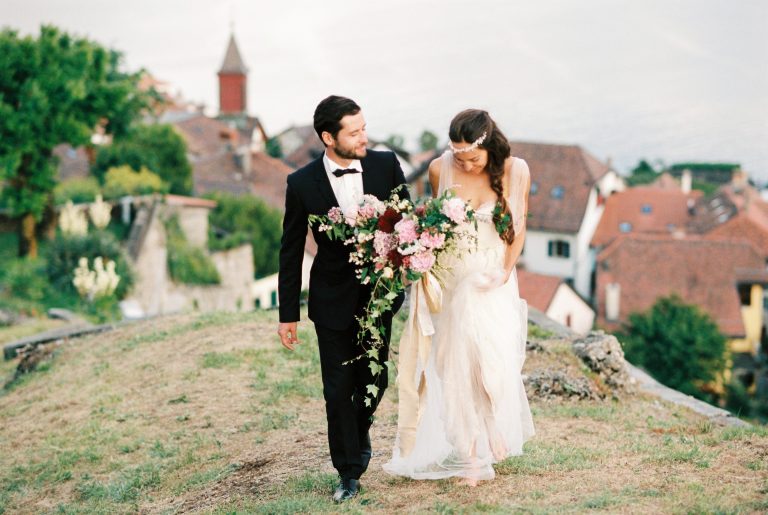 SPECTACULAR SWISS DESTINATION WEDDINGS
Switzerland is a top destination in Europe for a romantic wedding. Traditional weddings in a church or chapel, at one of the lakes, a mountain meadow, or a magnificent castle are just some of the options from which to choose.
Top wedding photographers in Zurich, Luzern, and Zug are in high demand. Many of the top photography studios schedule photo shoots a year in advance. Most couples schedule an appointment with the photographer as soon as they reserve the venue for their reception.
SELECTING A WEDDING PHOTOGRAPHER
1. The first thing to do is to decide on the date for your wedding and style of photos you want.
2. You can get a good idea of the style of several photographers from their website portfolios and blogs. Most photographers have a page about their experience and their vision for a couple's wedding. You can usually tell something about their personality by reading reviews from past clients.
3. Set up appointments with a few photographers to meet in person. You'll be spending a lot of time together, so it helps to have compatible personalities. If the photographer isn't available on your date, see if they have an associate or can recommend someone who uses a similar style in their work. The photographer will want to know about the style of your wedding, the venue, and what your vision is for your wedding photos.
4. Ask to see examples of albums they've done for previous weddings so that you can see their work. If it's an outdoor wedding, ask to see similar albums.
5. Look at the images to see if the most intimate moments are captured, if everyone looks natural, and if the lighting is right. If you want the ceremony shot from several angles, make sure to let the photographer know.
6. Confirm who will be shooting your wedding. Some studios have more than one photographer, so make sure that the person you initially talk to will be shooting the wedding.
7. Read the contract to find out what stipulations are made in the event someone has to fill in for them on the day of the wedding. If you're having a big wedding, you may want to hire two people. One photographer can shoot formal portraits while the other handles candid shots. As the wedding day approaches, you'll meet with your photographer again to discuss last minute details and work out the time frame for any pre-wedding events, the ceremony, and celebration.
8. Discuss various packages, what the standard pricing is, how many hours you'll need the photographer for, and additional coverage you may want, such as a shoot for your engagement.
STYLES FOR WEDDING SHOOTS
A photojournalistic style to photography and the ability to photograph all the spontaneous moments of the day are a must. The photography must be very personal and capture every moment of the ceremony and reception, whether formal or fun and whimsical. Wedding photography is an art. The studio should be able to incorporate black and white, color, nature, and scenery into their images.
Formal, Candid or Trendy
Discuss all the options with the photographer. Some couples prefer formal portraits while others like spontaneous, candid shots. Some photographers shoot a fine art style which is muted and dramatic. Most photographers who shoot this style usually use black and white film. If you want a combination of fine art and candid, color images, you may want to use two photographers. Some studios specialize in a more edgy style using unusual angles. If there's a particular style that you want for your wedding, find a photographer who specializes in that style.
Video Services For Weddings
Another option that more couples are choosing is video services for the ceremony and reception. A videographer has the ability to capture the spontaneity of the event without posed, formal shots. Most videographers in the Zurich area can produce videos of your wedding in HD or DSLR with full color editing. Your choice of music can be dubbed into the film during editing.
The videographer offers a password on their website to share your wedding video with family and friends. Some couples prefer a slide show with music. Videos of your wedding are the ideal way to relive all the excitement again, especially with friends or family who can't be at your wedding.
The Wedding Photographer Is an Artist
The photographer must have a creative flair and be able to capture images in a discreet way while having the ability to make you and your guests feel at ease and look natural in your photos.
The objective of your wedding photos is to tell your unique story while using the spectacular scenery of Switzerland as a backdrop. Your photographer can make your images look exciting and spontaneous, whether it's a photo shoot of your proposal or engagement party or a family gathering after the wedding.
You should always find out what's included in a wedding package before you hire the photographer to make sure your expectations are met.
Options For Your Nuptials
1. In Switzerland, you may have a civil ceremony, a marriage ritual, or both. When you're choosing your wedding photographer, take this into consideration since you may hire the studio for more than one day.
2. If your ceremony is a civil affair, you may hire the photographer for the ceremony and a quiet reception or dinner following the marriage. Some couples have a civil ceremony and a marriage ceremony with a celebration.
3. A third option is to host a civil ceremony and traditional ritual in a Swiss city and a celebration following the nuptials in another location.